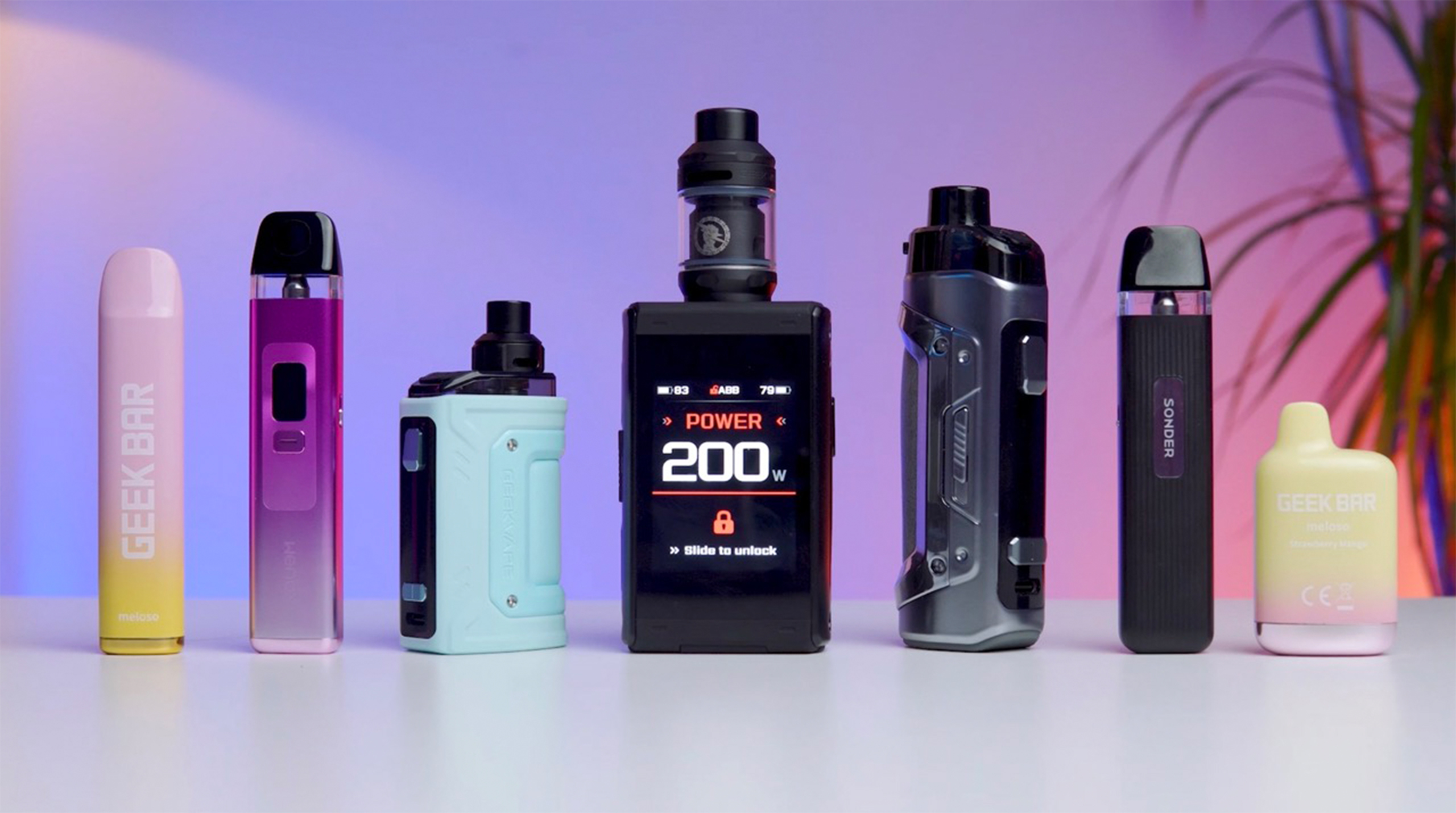 Ever since Geekvape entered the vaping scene in 2015, they've built up a reputation for quality manufacturing, featuring an unprecedented degree of damage protection in their build designs. 
In 2018, Geekvape caught the attention of MIST and their UK vape shop with the release of the Geekvape Aegis Mini Kit, a superb sub-ohm device that paired a compact build with what was at the time an unheard-of degree of protection from physical damage.
Since then, Geekvape has only impressed us further as they continue to balance their design focus between user-friendly MTL pod kits and traditional dual-battery cloud-chasing devices.
Today, we will put several new Geekvape kits through their paces to see if they've still got the engineering expertise to produce some of the best vapes in the world for every kind of vaper.
 
Score: 9/10
The Geekvape Sonder Q Pod Kit follows on from last year's Sonder U>>. 
The Sonder U provided a low-cost vape kit, utilising the Geekvape U Pod series. The new Sonder Q performs similarly while premiering the improved Q Pod series.
Our team at MIST was impressed by the Sonder U and was keen to see what the Sonder Q had in store for us.
The first thing we noticed was the elegantly fluted design of the device, with trenches going down that provide an extraordinary degree of grip. This might seem like a minor point, but when you consider the draw-activation and low retail price of the kit, it becomes clear that Geekvape knew smokers would be drawn to the Sonder Q as a starter kit. 
Another new and very welcome feature is the airflow slider, which permits you to increase or decrease the 'tightness' of the draw, making the Sonder Q a remarkably customisable kit that can be changed to suit the inhalation styles of different vapers.
The battery is registered at an impressive 1000mAh. The charge level is indicated by a coloured LED system that flashes behind the logo when a coil is inserted, making it easy to gauge your battery health quickly.
Finally, we were delighted to get our hands on the long-awaited Q Pods. Built in accordance with Geekvape's new VPU coil designs, the disposable pods feature pre-installed coils built with ceramic cores for improved longevity, along with better-woven wicks and a more robust heat generation to deliver more satisfying inhalations.
Our team is very impressed with the Sonder Q>>, and we're confident that thousands of new vapers will find it the perfect fuss-free starter kit.
Score: 10/10
The Geekvape Wenax range has seen a fair few designs showcased, from the simple Wenax K1 pen to the travel-friendly Wenax U>>. Each of them has served a different MTL vaping requirement, but the Wenax Q>> seeks to provide us with an altogether more robust kit.
The Wenax Q is quite frankly gorgeous. Gone is the original K1 plastic bar, replaced with a far more durable aluminium box-bar design, which despite the heavier materials, provided us with a comforting heft and ergonomic comfort thanks to the rounded edges. The metal build is also pleasantly cool to the touch.
For many vapers, the dividing line between casual pens and serious hardware is the presence of a display screen. The Wenax Q's OLED display allowed us to constantly track our battery charge, wattage setting, pod resistance and puff count. 
While some prefer a simple no-thrills pen, our team found the battery readout helpful, considering how much we vape in the office.
And we see this roundup's second outing for the new Q Pods, delivering all the flavour and longevity mentioned above and providing you with very convenient snap-off refills, so you don't have to worry about juggling any parts when you're refilling on the move.
Score: 9/10
We've seen some excellent MTL devices so far, but now it's time to delve into the cloudy realm of design that first brought Geekvape to our attention all those years ago — sub-ohm vape kits.
The H45 Classic is an upgraded version of the original H45 Hero and seeks to deliver the same degree of travel-friendly cloud vaping without weighing you down. The new H45 Classic reduced the build weight by 15%, making an already-portable build easier to take out and about.
A new rubberised skin has also been added to provide you with soft grip comfort, and these lightweight and comfy elements make the IP68 damage protection a delightful surprise. We stress-tested the H45 Classic with some reasonable drops to the floor and even dipped it into a glass of water and found it continued to vape perfectly, so it's great for the more butter-fingered vapers out there.
A 1400mAh battery provides you with more than enough charge to explore the 5W - 45W output range. It is also equipped with user modes, providing more significant degrees of customisation than you can ordinarily expect from a kit this small. 
Cap it all off with the excellent flavour and longevity provided by the Geekvape B Series coils and a leak-proof top-airflow, and the H45 Classic>> stands as one of the best portable cloud kits in the world right now.
Score: 10/10
Portable sub-ohm is all well and good, but a common sub-ohm issue is that the high-powered outputs will quickly drain your battery, leaving you stranded and vapeless until you can find a charging station.
The Geekvape B100 addresses this by allowing you to select your own 18650 battery (sold separately) for use with it. This feature isn't just great for helping you skip recharges with a spare battery, but also prevents you from having to buy a whole new vape mod in the event of full battery death or malfunction.
The B100>> has a maximum output of 100W, and despite the build being able to fit comfortably in your palm, we found we could completely fog out the office in minutes with a 0.16ohm P Series coil. It also has a wide mouthpiece and ample airflow adjustment, making iit clear that this kit is intended exclusively for sub-ohm cloud chasing.
I'll admit something; I'm a dedicated MTL vaper, yet I haven't been able to put the B100 down all week. The leatherette panel is squeezy and feels great in my hand, the A-lock switch on the side makes it easy for me to prevent pocket firings. The ignition speeds are also fantastic, quickly delivering me a lungful of tasty juice while the on-board Smart mode stops me from accidentally burning out my coils.
A perfect kit for anyone who wants long and unending cloud sessions on the move and my personal favourite Geekvape device.
Score: 9/10
So far, all the Geekvape kits we've looked at have fallen into the travel-friendly category. But this next device goes all in on pure power and delivers not only solid outputs but one of the most cutting-edge designs and interfaces our team has ever encountered.
The T200 Kit is a dual-18650 battery box mod that you can set as high as 200W, giving you one of the most substantial wattage outputs in the world. As usual, a Smart mode is in place to prevent you from burning your coils, but the kit is also loaded with Temperature Control and Bypass modes if you prefer to use RDAs and RDTAs, making it a cloud chaser's dream.
If you prefer the convenience of a traditional tank however, the T200 Kit comes with the Geekvape Zeus Tank, which has an excellent selection of Z Series coils at low ohmage for superb vapour production.
We were blown away by the interface, with a massive full-colour HD 2.4-inch touch display, making it easier than ever to navigate menus and modes. Coupled with the standard IP68 protections and you've got a near-impenetrable box mod with unrivalled output potential.
And while the T200 is absolutely a premium piece of kit, we were touched by Geekvape's desire to provide even budget-conscious vapers with a means to compete; the alternative Z200 is more widely affordable and boasts the same degree of functionality, it simply eschews the IP68 protections, touch interface and USB-C port to keep manufacturing costs down.
The T200>> is a truly magnificent piece of cloudy kit with a value-range alternative, making Geekvape proud owners of one of the most accessible vape ranges in the world.
Conclusion
The MIST team is over the moon with Geekvape's recent offerings, with vape kits available for brand-new vapers, established MTL puffers, and the cloud-chasing traditionalists.
We appreciate Geekvape's consistent efforts to provide their kits with durable builds and waterproofing for those of us with a tendency to be clumsy.
The most exciting of the new releases are the Sonder Q and Wenax Q Pod Kits. Geekvape's new VPU pod & coil designs allow even budget-range vapes to deliver some of the highest flavour plateaus in vaping. Coupled with easier refills than ever, the Q Pods are a smash hit.
With vapes for casual smokers, working professionals, travellers and those working in the hardier trades, MIST is confident in stating that there's a Geekvape for everyone.